Custom Tuning
What is Custom Tuning?
Custom Tuning is a way of tuning up a modern fuel-injected vehicle.  With the advent of electronic engine controls, many of the old ways of fine-tuning engines went away.  We have Computer Software that allows us to access the parameters in the ECM, or Engine Control Module, where we can readjust spark timing, fuel ratios and much more to optimize the performance of your modern fuel-injected vehicle.  This also allows us to optimize a fuel injection system for a modified engine.  Just about any modification, whether it's cams, heads, intakes, exhaust systems, turbochargers, superchargers, nitrous, stroker packages, etc. can be set up to work with the factory ECM.
Custom Tuning has also expanded into the ability to make adjustments to the shift patterns and timing of modern electronically controlled transmissions.  Virtually any modification can be accomodated.
Why would you want to custom tune your vehicle?
Have a stock vehicle?  Want it tuned for a little more power and economy?  We can do that!

We can tune for virtually any engine modifications, including nitrous, turbocharging, supercharging, methanol injection, transmission upgrades, Diesel upgrades and more!

Want a 383 stroker, 454 or 502 in a late-model pickup?  Can be done with stock engine controllers and be fully integrated!

Contemplating a really exotic engine transplant into a vintage car or truck?  Like maybe a 600hp Duramax Diesel or an LS7 Z06 Corvette engine?  We can set up all the electronics no problem!
What gains can be expected?
That varies greatly depending on the engine and powertrain combination.  Often the most significant difference is driveablility, or "power under the curve."  Generally there will also be an improvement in fuel economy, but that is quite dependant on the driving habits of the individual.  It is very tempting to get more aggressive with a power tune!  Here are some general rules of thumb:

4 Cylinder Engines:  Up to about 7hp gains, depending on engine and fuel octane.  2.0 litre Supercharged engines will gain much more with overdrive pulleys.

6 Cylinder Engines:  Up to about 15hp gains, depending on engine and fuel octane.  Supercharged 3800's can gain quite a bit with overdrive pulleys.

8 Cylinder Engines:  Up to about 30hp gains, depending on engine and fuel octane.  Big-block engines can gain even more.

Diesels:  Almost any gain you want!  The maximum for a stock Allison transmission is about 70hp to the rear wheels.  The stock fuel injection pump, with a little help, can support around 450hp and close to 1000 ft-lbs of torque at the rear wheels.
Will this affect my warranty?
The auto manufacturers have never endorsed aftermarket tuning. In fact, GM and Ford are in the process of enacting policies and procedures that can identify aftermarket tuning.  GM is already asking Duramax technicians to look for aftermarket tuning in the ECM's before dealing with a major hard-part failure in a powertrain component, and if it is found all powertrain warranty is denied.  That is within their rights, as stipulated in their respective warranty policies.

Manufacturers don't stand in the way of people modifying their vehicle, they just don't want to pay for warranty on a modified vehicle.
What happens if my ECM is reprogrammed by a dealership?
Firstly, we always use the latest updated GM programming as the base for our power program.  The likelihood of your vehicle being programmed is significantly reduced.  Generally speaking, after a vehicle is about 2 model years old, there are very little if any significant GM programming upgrades.

If your vehicle is reprogrammed at a dealership, we will put your program back in free of charge, using the new updated factory programming.
What are the benefits of custom tuning over a power programmer or "chip"?
We've had the experience of looking at several over-the-counter power programmers, and have been sorely disappointed.  Some only provide "psychological" horsepower by cranking up shift pressures!  And custom tuning provides by far the most detailed options for calibrating your ECM.

What about multiple power levels?  Diesel power programmers or "chips" often have multiple power levels that they can be set too.  On the other hand, we only provide 3 power levels: (1) Fuel Economy, (2) Towing/Drive (3) Race (for modified engines only).  Once these are programmed, that's the way your ECM stays.  Our tunes offer the benefit of adjusting the power with your right foot:  Really, why would you want anything less then the maximum safe power or maximum economy?  That's why I am amused with power programmers or chips with 4 or more adjustable power levels.  Our tunes will allow the Allison's adaptive strategy to operate correctly, instead of constantly adjusting for multiple power levels.  Our Towing/Drive tune is safe for your stock engine and transmission, and it produces way more safe and smoke-free horsepower than typical power programmers or "chips" on towing mode.

What about service at a dealership?  If your vehicle is programmed at the dealer, it renders many power programmers inoperable.  Most times you have to send that programmer away to the manufacturer to get it updated.  If your vehicle is reprogrammed at a dealership, we will put your program back in free of charge, using the new updated factory programming.
Currently we have five tuning packages:
Wester's Garage GMT Tuning Software  (check it out at Wester's Garage website)
Wester's Garage DPS-LS2 Programming Software
Wester's Garage DPS-Ford Programming Software
EFI-Live V2 Scan and Tune Commercial Tuning Software
HP Tuners VCM Suite
We use this software to reprogram your car or truck's ECM (Engine Control Module), TCM (Transmission Control Module) or PCM (Powertrain Control Module.)
Adjustable parameters:
Fuel ratios and curves.
Spark timing
Turbocharger boost pressures
Torque management
Diagnostic Trouble Code routines can be disabled for off road applications, i.e. where there are no catalytic convertors, O2 sensors, etc.
Tire sizes, axle ratios can be properly adjusted and programmed for speedometer accuracy and transmission shift points.
A/C and fan control parameters can be modified
Transmission shift points, pressures, shift timing can be adjusted
Speed and rev limiters can be adjusted up or down
And much more...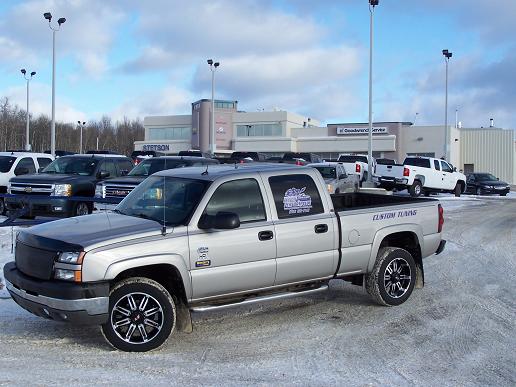 Copyright Joel Paynton 2007-2017